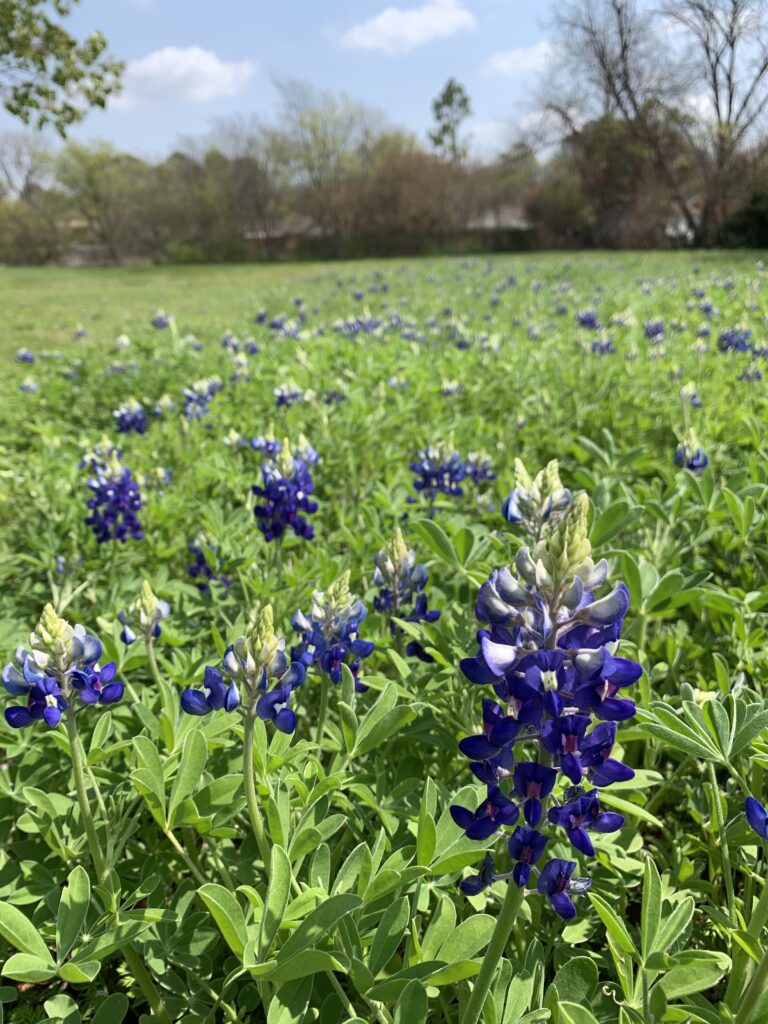 There's a little patch of grass on the southwest corner of the church property, just south of a row of Bradford pear trees, but just north of the ravine.
It's mostly an innocuous piece of the property, certainly not as visited as the sanctuary, or as quaint as the gazebo, or as functional as the fellowship hall.
But that little piece of earth is hallowed ground for our congregation.
It's also become somewhat of a destination these days for neighbors of Denton First Cumberland Presbyterian Church and the larger community.
My first few weeks at the church as pastor, in the comparatively dead cold of Texas winter, I could hear members talking to one another, "Have you looked at the bluebonnets this week?…They're filling in nicely…..I think we'll have a good crop of them this year despite the snow."
Oblivious, I saw nothing in our lawn or many flower beds that clued me in to what was coming. My members tried to warn me, to tell me, to testify of the good fortune that was about to come. One day about a month ago, one of our elders announced triumphantly, "We have our first bluebonnet!"
"Show me," I demanded, and we walked across the parking lot together.
There in the middle of mounding piles of five-point, star-shaped green leaves I would have otherwise mown over as weeds if I was our landscaper, was a lone bluebonnet peeking out it's head shyly.
I inhaled. "Ohhhhh."
The one little cone-shaped stalk wasn't lonely for long. Soon it had dozens of brothers and sisters poking their way out of the green clumps for long overdue greetings. "The winter was long and especially cold," they seemed to say, stretching their bonnets on their growing stems, "but we're here like we promised."
The delicate flowers, officially deemed the state flower of Texas, are a sight to behold.
The main bonnets are a purply blue, a deep royal, the kind of blue that you almost want to call violet, but then you take another look and want to name it indigo. It's the kind of blue that makes you want to write poetry, or at least include in a blog post. There's magenta hiding in the intimate center of each bonnet, and the top most ones on the cone start out white before they turn sky blue and eventually deep blue.
The flower patch, one of dozens, hundreds, perhaps thousands across the state of Texas, was intentionally planned and planted by members of the congregation long before I, their new pastor, was ever a mention in their prayers. The patch grows every year as the flowers germinate and seed themselves into the ground, but are also aided by loving and attentive congregants who plant a few extra seeds in the fall in order to propagate over the winter.
Bluebonnets were a way to attract folks to the grounds of the church, to let folks know the congregation was there, in the middle of several active neighborhoods, and invite them to come back on another day. Maybe at 10:45 a.m. on any given Sunday.
It's been a delight to me these past weeks, preparing to wind down from Lent and prepare for Holy Week and Easter, my first holy season in the Lonestar State, to see so many folks enjoying the vibrant blooms.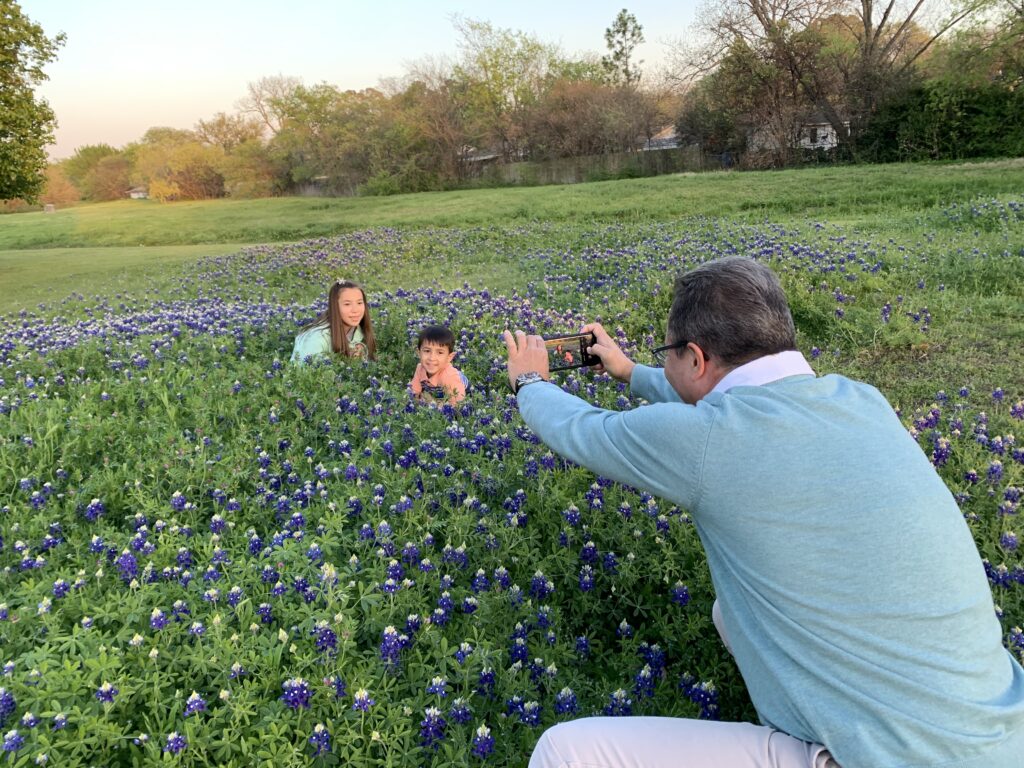 Above all, the patch is a vision of holy hospitality for me. It's open for all, it was created for others, and it gives more than it takes. It is a piece of splendor, a place of memory-making, and a quiet place for reflection. It reminds me so often of Jesus' invitation in the gospel of John to "Come, and see."
Young children have shyly smiled at camera-hawking mothers, professional photographers have brought complete families, Texas-transplant pastors have taken selfies there, and we even had a group from a senior living home come visit.
The bluebonnets don't care who comes to gaze at their beauty or become paparazzi in the making. They're quite happy to be known in the moment, as they are, growing and extending their grace in the light of the sun.
Texas is a new world for me, with a culture more unique than all my joking before my move here could have imagined. It's a good place, with good people, and a congregation that is ready to serve as Jesus did.
With the help of a glorious patch of bluebonnets, my prayer is that I continue to grow, and extend my grace in the light of the Son — that I continue to respond to Jesus' invitation to "Come, and see." And that I invite others to do the same.
~ Dusty