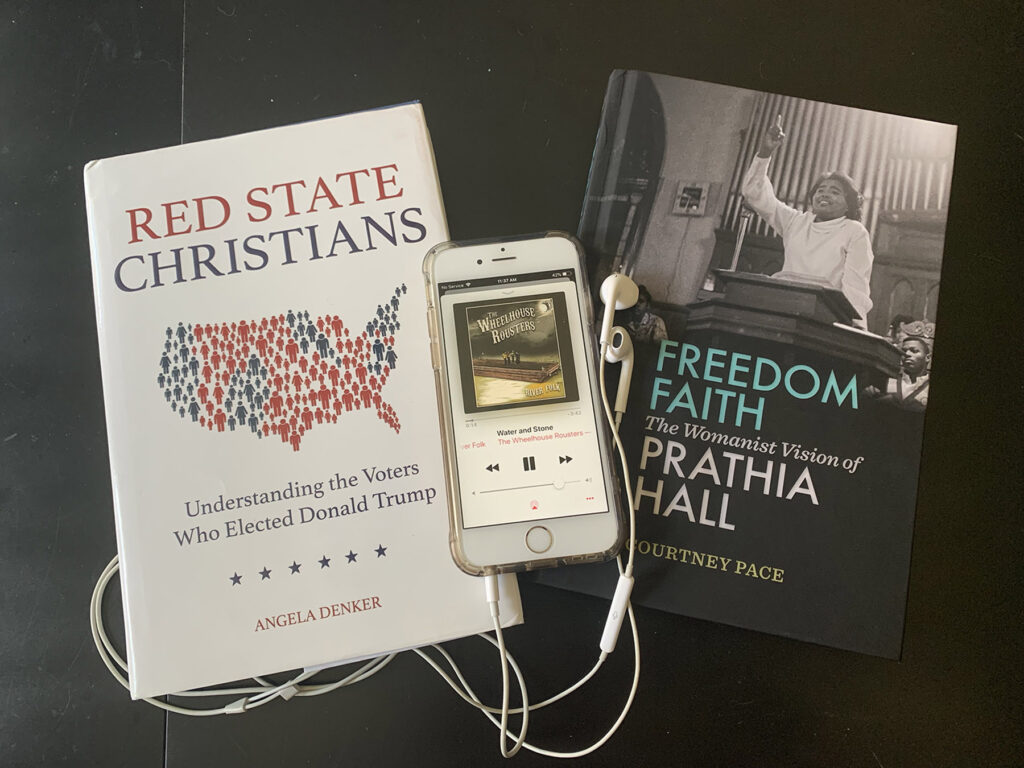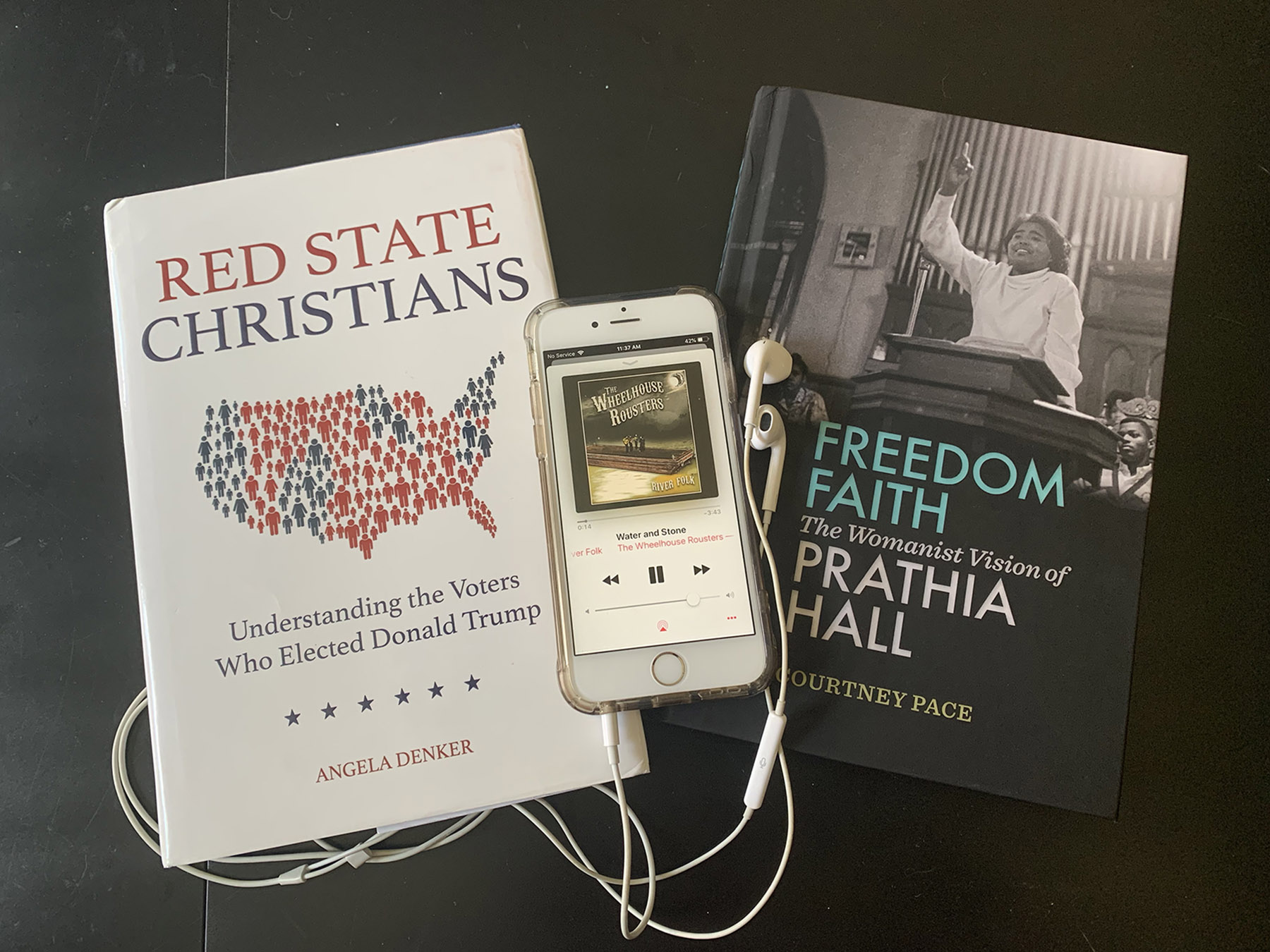 As we anxiously await summer to start waving its sweaty white flag, I wanted to highlight a few things that kept me entertained and informed that past couple months. 
And I am so proud to say that each of these three ventures were created, produced, and published by my friends!!
Surround yourself with good people, y'all. The uplift is amazing.
This summer I read Red State Christians: Understanding the Voters Who Elected Donald Trump by Angela Denker and Freedom Faith: The Womanist Vision of Prathia Hall by Courtney Pace, and I listened to River Folk, the latest album by the Wheelhouse Rousters. A few notes about each of them: 
Red State Christians is written by Angela Denker, a classmate of mine from our journalism days at the University of Missouri. We have had strangely similar career moves — we both moved away from our homelands to take sports writer jobs, then transitioned to calls to ministry that included seminary and positions of pastoral leadership within churches. 
Denker conquered a formidable task — traveling the US to interview Christian individuals who live, work, and minister in this politically divisive climate we all live in. Red State Christians chronicles the myriad issues at stake for Christians in the 2016 election of President Donald Trump in a researched and respectful manner — while applying cultural statistics with deep theological concepts. But instead of focusing solely on the issue, Denker goes directly to the people who are affected and encourages dialogue rather than monologue.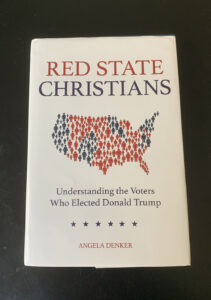 There are stories from the Midwest, from Texas, from California, from the Northeast, from the Appalachian region, and from Florida — Denker earns her frequent flier miles for this work. Of particular interest to me were stories from the Florida football coaches regarding faith and politics, and the section where Denker interviews Trump's own pastor, Paula White, in a chapter called, "Evangelical Women and Donald Trump: Who's Grabbing Whom?" I gasped in the opening chapters where she witnesses first hand the preaching and teaching of Christian Nationalism and outlines the dangers that come with that corruption of faith.
Denker sets off the tension in her book in her introduction:
"When we don't avoid people who think differently than we do, we gain an opportunity for growth and national renewal. My hope is that as you read stories of Red State Christians, you will find surprising commonalities among people who seem quite different from one another, whether you are a conservative Christian or not. Of course, when opposing viewpoints collide, the result is not always cohesion; sometimes it is combustion. I know that as a part of telling the stories of the Christians I met in red counties, I will reveal uncomfortable and hurtful truths. In addition to the many wise, kind, and genuine Red State Christians I met across America, others were committed to division, destruction, and perversion of the story of Jesus to support their own wealth and power."
I'm grateful for Denker's work and research, and I pray for continued and increased dialogue among each one of us as we continue to seek out commonalities rather than division.
In Freedom Faith, the Rev. Dr. Courtney Pace, one of my professors at Memphis Theological Seminary, chronicles the life of Prathia Hall, an under appreciated female leader in the Civil Rights Movement, in an exhaustive biography that has spanned years of research and interviews. 
Never heard of the Rev. Dr. Prathia Hall before? Before learning from Dr. Pace, I hadn't either. In an interview with Representative John Lewis, Pace tells us why: "Prathia, if she had been a man and not a woman, people would know much more about her… She would have been much more visible — not just within SNCC, but in the whole movement and in America."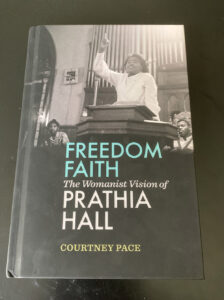 Pace tells the story of Hall's important work in the Civil Rights Movement, including her connection with Dr. Martin Luther King, Jr., and the fact that it was her words and her prayer that inspired King's infamous "I Have a Dream" speech. Hall's testimony and witness are incredible stories for anyone to consider as we continue to grapple with equality and full inclusion, and Pace spares no detail in chronicling the struggle of Hall and other Civil Rights workers.
The story doesn't stop with Hall's Civil Rights era work, but continues to record her struggle to complete her PhD work, and her continued work for Freedom Faith — "the belief that God wants everyone to be free and equips and empowers those who work for freedom."
Pace includes excerpts from several of Hall's sermons, including this one that struck me regarding misogyny within the black churches of Hall's context, but also still prevalent in other churches today:
"We did not become men and women in order to become opponents. We became two for the sake of human harmony, solidarity, and progeny. Even when the one earth creature became two human beings, the most recognizable thing about them was not their delight of the differences…[but] their sameness… not a divine afterthought, but bone of my bone, flesh of my flesh, mind of my mind, spirit of my spirt, and one like me."
The contribution Pace makes not only to Civil Rights Movement documentation and history, but to womanist theology and women's ministry is unquestioned in this work.
On the soundtrack of my summer was the Wheelhouse Rousters' fresh third album River Folk. 
The Rousters, comprised of Josh Coffey, Eddie Coffey, Nathan Lynn, and Jake Siener, have a neat history in Paducah, and early on focused to put music and lyrics to musicologist Mary Wheeler's historical documentation of riverboat tunes by old-time roustabouts. Much of their first two albums were filled with versions of historic music played and sung by laborers working on the rivers. This album, however, is completely original music that brings together the roustabout style of music with contemporary lyrics and themes that "folk of the river" can associate with. 
It's all just lovely. Top to bottom, it's a quality album from a talented group of musicians that can and should be enjoyed by folk music and bluegrass fans outside this region.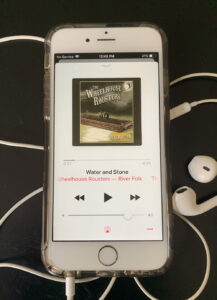 "Water and Stone" is an ear worm for sure. The melody is contagious, the harmony grabs you — the opening string work makes you actually envision water moving along the crags and rocks of a river or stream. The first time I listened to "Forever Only Lasts Awhile" I wept out of regard for its beautiful simplicity and truth. I was pleasantly surprised to find a social justice message in "Uglyhead":
"Winds of fear are stirring/the leaves of hate are blowing 'round/ lines of reason blurring/ a sickness of the past rebounds/ It was so long ago/ it should be dead, but it's raring its uglyhead."
Songs "Dry Ground and Wet Beer" and "Let Them Dogs Run" make me want to dance, or head to a dog park, or the brewery — or all three.
The next best thing to listening to the Wheelhouse Rousters on iTunes or Spotify is to find them playing live around the region or on a riverboat. You can find them performing next month at Paducah's Oktobertfest, or book a ticket for the Queen of the Mississippi in November.
You can find Freedom Faith and Red State Christians on Amazon, or request that your local library add them to its collection if it hasn't already done so. 
~ Dusty